YOU'LL ALWAYS HAVE A SONG
By Ray Lewis
Let me tell you about Ma & Pa Jackson...Back in the 40's when they were young, they lived in the Kiamiche mountains in Southeast Oklahoma where Pa was pastor of a little church. He worked at a sawmill to supplement the income since the church couldn't afford to pay him.
Ma & Pa had two young sons about 5 and 6 years old, and Christmas was coming up with no extra money in sight to buy them anything. One night Ma sat her sons down on the old couch, handed them the Sears Toy Catalog and said, "Boys, I want you to each pick out one toy that you'd like to have for Christmas."
Well, they almost tore the pages going back and forth, back and forth, trying to choose just one toy. Finally they showed her what they wanted. After she put them to bed that night, Ma got down on her knees and began to bombard Heaven on behalf of her boys.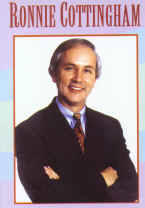 Christmas was getting closer and nothing had changed...On Christmas Eve night after the boys had gone to bed, a knock came at the door. When Pa answered it, a deacon from the church stood there with a sack in his hand and said, "I was down at the local store and saw a couple of toys that I thought your boys might like to have for Christmas, if you don't mind." No, Pa didn't mind. . . He was touched and wished the deacon a good night.
Well, when the boys got up bright and early on Christmas morning, I'll give you three guesses what was in that bag, and the first two don't even count! Yep, the exact toys they picked out in that Sears Toy Catalog! Is that "God" or what!
Now, I had to tell you all of that to show you what a prayer warrior Ma Jackson was, before I told you the "rest of the story..."
Ma and Pa Jackson were older when I met them. One of their boys grew up to be my pastor, and they went to church there, too. If anyone had something to pray about, they for sure wanted Ma to pray for them, because she could "evermore" ring the bells of Heaven.
She had Diabetes, and one night during prayer service my pastor said, "if God doesn't intervene, they're going to have to amputate Ma's leg." Well, we had prayer that night, and I just knew that God was going to heal Ma, there was no doubt in my mind about that, at all. I mean, if anyone deserved to be healed, Ma did. She'd served the Lord all those years, been in the trenches for Him, so I knew He was going to heal her. So when they had to take her leg off, I got mad at God...For about three days, I said over and over, "God, this is not right. You should've healed Ma!" (Aren't we proud that God doesn't lost His patience with us when we're immature Christians and "fuss" with Him?)
When I got to church the very next service, I had no idea that my spiritual attitude was about to be changed...
Our pastor, Ma's son, got up and said, "When I went into Ma's room after surgery, I didn't know what to say to her; I'm her son, but I'm her pastor, and we had all prayed for her healing. When I walked over to her bed, her eyes were closed and I could see where tears had coursed down her cheeks and wet her pillow. Her hands were folded across her stomach, so I just laid my hand over hers. When I did, her eyes opened and she looked up at me with a big smile and said, "Son, the devil got my leg, but he didn't get my song!"
Man! What a saint of God! What a spiritual role model! I mean, if anybody should've gotten mad at God, it should have been Ma. . . She's the one that lost the leg!
Before Ma went to Heaven, she lost her other leg, too, but that didn't stop her from shouting. She was in a wheelchair which sat close to the front of the church, and there's been many times when I saw her get so happy in the Lord that she got both wheels off that floor!
After she went to Heaven, I'm convinced the place hasn't calmed down yet J!
That night when I heard what Ma had said about not losing her song (Peter called it Joy Unspeakable), I vowed I would never lose mine again, and this song was inspired.., and every time I sing it I think of that saint of God, Ma Jackson.
YOU'LL ALWAYS HAVE A SONG
Verse One
I've had my share of sorrow, saw great plans for tomorrow
Fade with the dawning and by sundown they'd be gone
I've tossed on the raging tide, wondering, Lord, can I survive?
But Jesus never left my side and I never lost my song.
Chorus
Jesus gives a song to sing
In sunshine or the falling rain
Even when everything
Seems to turn out wrong.
Trials may get a little worse
But He just gives me another verse
As long as you'll put Jesus first
You'll always have a song.
Verse Two
Poverty or boundless wealth, sickness or the best of health
In the good times or the bad the melody goes on
And anyone at all can sing, just take Jesus as your King
Then no matter what life brings, you'll always have a song.
© Ray Lewis/Chestnut Mound Music/BMI
615-325-3872 Fax 325-8735 E-mail: lewisandlewisrus@aol.com
©2008 Lewis & Lewis